Autobahn
Deutsche Bank's digital multi-channel gateway to its products and services for Corporate and Institutional clients
Multi-channel Access
For money managers, our professional desktop environment enables you to manage every aspect of your trading, and now our intuitive and interactive mobile interface means you don't need to miss a beat when you're on the move.
Autobahn FX Solutions
For treasurers, our web and desktop solutions provide online management of your cash and liquidity positions, plus digital access to dedicated services for Deutsche Bank's Trade Finance, Trust & Agency Services and Securities Services divisions.
Customised Workspaces
Create your own personalised workspace by docking multiple windows into a single layout providing easier and quicker access to frequently accessed functions.
Save the layout and share it with your team to optimise your company's workflows.
Powerful Search
Use our powerful contextual search engine to put the information you need at your fingertips. Interoperability between microservices allows you to rapidly switch entire dashboards with a single search command.
Dynamic Dashboards
Get all the information you need delivered in a customized dashboard – whether that's real time balances, payables information or foreign exchange prices, our interactive interfaces provide decision makers with total visibility on their business.
Industry Recognition
Euromoney FX Survey 2022
#1 in 26 categories including:
#1 Overall Market share
#1 Options (for third year in a row)
#1 Electronic FX
Risk Awards 2022
Bank Risk Manager of the Year (2nd year in a row)
FX Markets e-FX Awards 2021
Best liquidity provider for forwards and swaps
FX Markets e-FX Awards 2021
Best liquidity provider for options
IFR Awards 2020
FX Derivatives House of the Year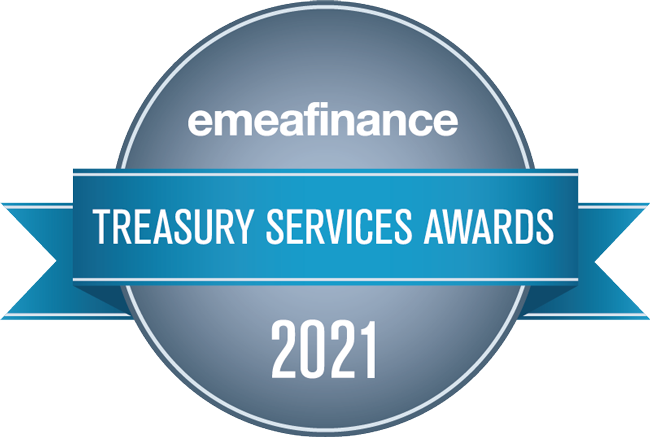 EMEA Finance Treasury Services Awards 2021
Five awards including:
Best FX Services in Europe (4th year running)
Best Cash Management Services in Europe
Profit & Loss 2020 Digital FX Awards
Winner of the 2020 P&L Innovation Award
eFX excellence awards for Autobahn Mobile, Market Colour and AOS
Reader's Choice Award – Best for Hedge Funds